IN THE PRESS: The videoconferencing room
AI promises to revolutionise videoconferencing, taking on a range of roles. Meanwhile the traditional and mass-market videoconferencing manufacturers continue to vie for audience share.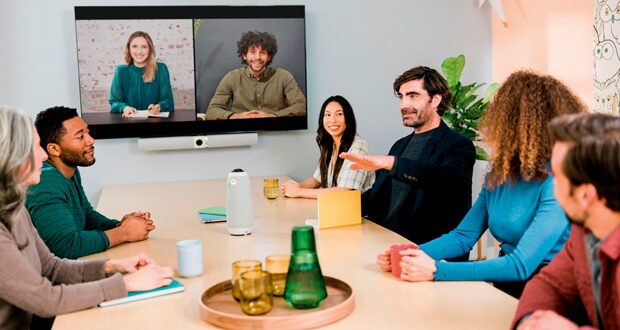 As one of the key enablers of the new normal of hybrid and remote working, videoconferencing technology has seen more changes than most in recent years, and the pace shows no sign of slackening.
The new technology currently causing most excitement in VC circles is artificial intelligence, which can be used to direct the operation of videoconferencing equipment, and even to create content based on what happens in the meeting (so-called 'generative' AI).
"We believe that generative AI has the potential to upgrade human interactions, making communication smoother and easier," says Helen Hawthorn, EMEA head of solution engineering at Zoom. (The company recently announced a partnership with OpenAI that will see generative AI help users to work more flexibly and productively. The models are also customisable, so they can be tuned to a given company's vocabulary and scenarios for better performance.)
Generative AI

Generative AI can organise ideas, summarise what is said in meetings and chat threads, create meeting agendas, and even compose messages based on a user's chat or email history. Zoom meetings also lean heavily on AI for features such as avatars, gesture recognition, noise suppression and virtual backgrounds.
A number of manufacturers have started employing AI to direct the in-room cameras and select the most appropriate shots. Jabra and Owl Labs use it to intelligently focus on whoever is speaking or moving. Logitech employs AI-powered conversation tracking to select the best view for remote participants, whether that be the entire room or individual speakers. And Zoom Rooms Smart Gallery relies on AI to create individual feeds of all the in-room participants to help ensure they can be clearly seen by people joining remotely.
"We've seen developments towards cameras with built-in AI-powered features that can automatically adjust settings such as brightness and focus, ensuring that users always look their best on camera," adds Doug Remington, general manager at DTEN. "Many videoconferencing platforms and devices also use AI to filter out unwanted background noise. In future, we can expect to see AI being used to help create more interactive and immersive experiences. Microsoft's Copilot is possibly the most exciting example."
Integrate AI into products

Hawthorn foresees an arms race as manufacturers vie to integrate AI into their products. "Natural language processing is becoming more of a focus, for example in AI-powered real-time translation tools," she says. "As this technology becomes more sophisticated, it will begin to understand the nuances of each language and provide more accurate translations."
Technical director of integrator Tateside, Jack Cornish is excited by the potential of technologies such as Nvidia's AI eye contact tool. "If you're negotiating a deal you want to be able to look the other person right in the white of the eye. Typically, though, with camera and display placement, you're looking somewhere else completely. Cue a touch of AI to correct your eye position, and it means you can be looking over content but maintaining perfect eye contact throughout the meeting. I hope it's only a matter of time until we see this in the meeting room."
Security
Whether we shall all be happy about letting machines eavesdrop on our meetings is another matter, of course. "As AI continues to develop in videoconferencing, it's likely that considerations around security will increase too," says Steve Franklin, executive director of integrator, Cinos. "As the ability to summarise meetings and conversations becomes increasingly commonplace, there are likely to be concerns about how and where this data is being processed and who has access, especially when the material is confidential."
Another interesting technical development in recent months, believes Franklin, has been the integration of environmental and sustainability features into VC solutions. "VC manufacturers are now creating products with sustainability as a primary focus," he says.
Cisco, for example, has integrated environmental controls into its collaboration endpoints so organisations can monitor and regulate air quality, temperature and lighting via the Webex Control Hub, without the need for separate components and detectors. Additionally, it provides reporting on meeting room usage across a VC estate.
This creates benefits in sustainability, efficiency and hard cash, according to Franklin. Lighting, heating and air conditioning can be turned off when rooms are unused, saving energy. With accurate, realtime occupancy data, meeting room use can be optimised – for example by directing a group of people to the nearest free room that can accommodate them all. And with a bird's-eye view of all meeting room usage, facilities managers can make informed decisions on how best to equip and allocate spaces, based on how they will actually be used.
User base expands

The user base for videoconferencing continues to expand. "It's been exciting to see the healthcare sector fully embrace VC, which not only enables in-patients to see loved ones who are too far away to travel, but also allows people to access healthcare advice and treatment in a remote way," says Fredrik Hörnkvist, co-founder of Boom Collaboration who maintains education is another big user, where students can participate in classes from anywhere in the world, so universities can raise more in tuition fees by reaching a wider audience.
"Implementations of VC to support hybrid and hi-flex learning in higher education have been notable, not just because of the scale at which they have been done, but also because of the scientific and thoughtful approach that's been taken," says John Vickerage, managing director of Alto Technologies. "Where many VC solutions have been deployed hurriedly to meet the demands of remote workers, universities have taken time to research and test what combination of products and services will best meet the requirements of remote and in-classroom students.
"Some of the detailed and extensive testing, especially on microphones and speakers suitable for classrooms, has been very impressive. Once the solution has been chosen, deployments normally happen pretty quickly. This has led to manufacturers developing UC solutions specifically for HE," he says.
Replicate their larger partners and rivals

Increasing numbers of small and medium-sized businesses are also adopting videoconferencing, as they seek to replicate the hybrid working benefits achieved by their larger partners and rivals. Much of the credit here must go to mass-market technologies such as Teams, Zoom and Webex, which have democratised VC in a way that would have been almost unthinkable before the pandemic.
However, it would be wrong to equate low-cost with cheap-and-cheerful. "There are features that used to be considered 'premium' that manufacturers now have to include just in order to be considered," says Adam Shulman, product lead for installed systems at Bose Professional. "For example, beyond just sounding good, audio needs to be intelligent, removing unnecessary background noise and leveraging the audio captured by beam-steering microphones."
Capabilities
Indeed, the whole concept of 'high end' and 'low end' videoconferencing systems may be out of date. "Previously it was capabilities and price tag that determined most of what defined a 'high-end' system," says Shulman. "But with the shift to smaller, mass-market solutions, it's now more about bringing functionality to a wider variety of space types."
There will still of course be larger spaces with integrated room systems – in-ceiling microphones and loudspeakers, camera(s), control panels outside the room (for scheduling) and inside (for controlling blinds, lights and other tech) – as well as smaller meeting spaces that need high-quality audio and video but without the same complexity.
And at least some of the high end manufacturers are fighting back to protect or regain their pre-Covid market share.
"Earlier this year Cisco announced new hardware with native Teams support," says Roger McArdell, CTO of Ashton Bentley Collaboration Spaces. "These products benefit from the feature-rich functions and extreme robustness of the traditional products, but with native Teams support and built-in BYOD capability. If you combine the updated features the Android/Linux version of Teams with the hardware capabilities of Cisco, it's a very compelling solution for the larger corporates."
Video conferencing parity

Maintaining parity between remote and in-person participants continues to exercise the grey cells of users and manufacturers alike. In future, perhaps we shall meet in some kind of virtual half-way house, thanks to virtual or augmented reality.
"VR and AR will help to break down the barriers between virtual and in-room attendees, with increased inter-functionality between in-person and remote participants, built on deep integrations of hardware and software," says Hawthorn. "Teams may be able to meet inside a 'digital twin' of a location, for example. VR and AR could be used for everything from product demos, to training, to tours of company premises, and will bring hybrid and remote teams together across continents."
"I can envision more immersive online meetings becoming popular," says Inesh Patel, business development manager for business communication at Sennheiser. (This is already being realised by companies such as Igloo Vision, which offers complete immersive experiences through 360-degree projection, complemented by high-quality audio captured by flexible ceiling microphones.)
"The last year has seen the dawn of fully VC-integrated hybrid working booths for one-to-one meetings, such as the prototyped Logitech Project Ghost," adds Eamon O'Doherty, EMEA enterprise director at Logitech B2B. "With technology that allows users to look directly at their colleagues through a hologram effect, it's as if they're sitting together in the same room. The future of VC will be replicating human connection as accurately as possible, and booths like these are just the first step."
Read the full story at AV Magazine.
Contact us to discuss your next conference room!
Get in Touch
We could bring the edge to your next project.
Talk to us