IN THE PRESS: Audio Networking
Background music comes to the fore with new, sophisticated zoning technology facilitated by digital audio networking.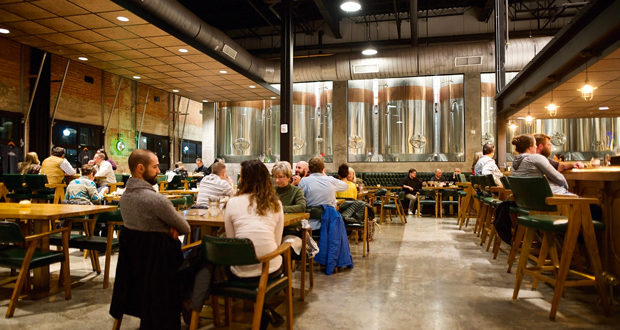 Credit: Pivovar hotel and spa in Waco, Texas has an AtlasIED music ecosystem.
Did you know that Muzak still exists? Not just the generic muzak term for what people call 'lift music', but the actual trademarked brand name: it's now owned by Vector Capital, although the original word is no longer used.
Also, in its chequered 90-year history, none of the companies operating it have ever literally supplied programmed content for lifts. Or elevators.
However, what Muzak Holdings did define was the concept of 'audio architecture': discrete and customised programming to suit different targets. The blanket rollout of generic music on which the company was founded, although franchised and adaptable to local areas, was phased out and a wider range of content was gradually introduced to match a wider range of environments.
This is the basic model still in use today and it has its roots in the decision by Muzak to focus on retail and commercial premises in the 1930s as radio colonised domestic consumption of audio.
So, not a new concept at all. But the technology is getting very sophisticated. Zoning, timed playlists, remote access and control… these are all expedients facilitated by digital audio networking and, especially, AoIP.
Recently, as if to respect the improved tailoring of content for ever more discerning listeners. There has been an explosion of loudspeaker products made by highly reputable manufacturers. Most of which are beginning to acknowledge that the delivery of this content is obliged to deal with acoustic conditions signally not built for purpose. The greater processing and control offered by the networks also contributes to the cause, if the 'cause' is an auditory climate that will, hopefully, achieve a desired effect.
Zoned out
For a taste of just how seriously the market is taking musical experience, look no further than AtlasIED's Atmosphere Audio Processing and Control System. A Texan boutique hotel and spa where you can actually bathe in Czech beer. Pivovar's spa has tanks of the stuff, but you can also drink it – and many other beverages – in luxurious surroundings serviced by the AtlasIED AZM4 4-Zone Commercial Audio Processor, with message player and ambient noise compensation. AtlasIED also supplied the loudspeakers.
Open audio networking really helps brand-agnostic operators like London-based Tateside. Formed in 2008 to provide audio visual and IT services and with customers including Selfridges, Mercedes F1, The Discovery Channel, Epson and the official Rolling Stones store in Carnaby Street.
Real decentralisation
Jack Cornish is Tateside's technical director. "Audio has converged on IP standards like AES67, and we've been huge advocates of Dante since its early releases," he explains. "This has shifted the way we look at designing audio systems, which used to be much more centralised with a large core processor and lots of analogue inputs. Plus lots of analogue outputs going to breakout amplifiers.
"We can now really decentralise. If you take a large hotel project, we no longer need a single source on one floor feeding hundreds of 100V line cables everywhere. We can use IDFs to accommodate much smaller form-factor amplifiers with very high-output, hugely powerful DSPs built into the box," he says.
"It's becoming quite exciting that we can be very flexible in the audio design nowadays. We're getting to the point where we're now looking at Dante embedded straight into the speakers, including ceiling speakers that are PoE powered.
We go out to a lot of jobs where you wish you could fit a speaker in a given place, but typically for commercial fitouts there's always lots of spare data around and nowhere suitable for speaker cable. We can now harness that kind of infrastructure and tag it on to a large part of our ecosystem for the audio processor," adds Cornish.
Flexibility
"What excites me is how flexible it's becoming and how protocols like Dante coming on board gives us a much wider choice of products – from budget to very high-end. The same protocol allows access to a good mix of brands. Gone are the days of using proprietary signals that locked us into a restricted range of products."
But, while PoE (as exemplified by Genelec's Smart IP range) streamlines the kind of installations that are Tateside's stock-in-trade, Cornish sounds a note of caution. "You have to look at it case by case," he says. "There are limitations to PoE power, and you won't be using it to fit out a nightclub. But for certain applications, it's ample in terms of SPL. You can get 40W out of some of the PoE speakers."
Which neatly introduces the ambition, the potential range, of business music. When does background become foreground, and does this need to be as flexible as the paradigms now enjoyed by Cornish and his colleagues?
Anything's possible, he says. "You might want to have your Yamaha QL1 desk at the ready with Dante going into it, so you can input all your BGM sources to use during intervals or before and after a performance. Every channel of BGM then becomes available in these bigger spaces, so the restaurant playlist, or the spa playlist, can become part of the programme. We do that quite a lot in hotels, for example."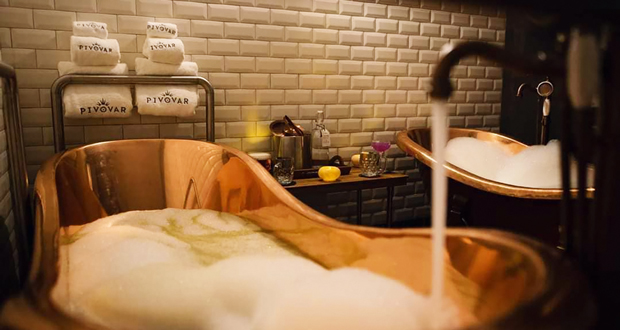 Credit: Beer bathing to music at Pivovar.
Music business
Immediately before lockdown, RCF directly addressed the issue of seamless transition between foreground and background music by introducing its 'Business Music' package at ISE 2020. This is the first of its kind to attempt a comprehensive integration of different musical purposes on the assumption that a given business will now have several of them to accommodate.
The RCF Business Music line encompasses amplifiers, speakers and networking designed to populate a commercial space with everything it might need, while maintaining the principle of compactness in relation to greatest possible impact.
The amps are only half a rack in width and combine mixing and DSP facilities too: DMA 82 (2 x 80W) and DMA 162 (2 x 160W) also have loudspeaker presets to suit a variety of locations. You can configure them on the front panel or use RCF's RDNet network management via a third-party device. Speakers range from pendant and ceiling to column arrays and subs.
Seizing the moment
The post-pandemic world is encouraging social contact and Crestron, typically, has seized the moment. This year, the DM-NAX range offers integrators a completely scalable, network-agnostic platform for AoIP. Crestron also has its own loudspeakers now, of course: 50 different models including ceiling, pendant, surface mount and sound bars. Importantly, DM-NAX scales up to performance and presentation spaces as required and expands any business music package into a much bigger and louder proposition.
Ekin Binal, director of audio and video products at Crestron Electronics, defines such a system's three priorities. "The important things are scalability, flexibility and interoperability," he says. "To go into any space you want – including sound reinforcement, with audio front and centre. In fact, we just started shipping a new amplifier with built-in streaming capabilities, and that completes the hardware for the system – which is based on the AES67 AoIP standard."
Disparate, distributed boxes are a thing of the past, adds Binal. "We have a single amplifier that can go on to the network and it's all-inclusive – streaming music services, DSP to adjust to the acoustic environment, paging if required and, of course, all the power. Plus, it's not just network-connected locally but also to our cloud gateway XiO Cloud. It's an A-to-Z solution."
Article published by AV Magazine, written by Phil Ward.
Get in touch if you require tailored audio networking for multiple zones for your next project.
Get in Touch
We could bring the edge to your next project.
Talk to us